2012 how did you creep up on me so soon! Where on earth did you come from! Time is flying by and I just can not seem to stop it! With the blink of my eye I have experienced a whole year and before I know it I am 26 years old, Christmas has been and gone and we are into a new year!
So much has happened over the past month that I have not had time to scratch myself let alone write about all of the adventures and
Special Moments
I have had! I hope that I can recap my amazing month of December and blurt it out for you here in a blog post! Sit tight, hold on and enjoy the ride!
December was my Birthday month, Christmas month and school holiday month at work. We had a lot of celebrations, trips, adventures and firsts! This was my December ride...
On the 30th of November...not quite December...I had the awesome experience of seeing Elton John live in concert! Well well well what can I say!
My mother in law won tickets to see his show and even though I didn't buy the tickets because I wanted to go, I was extremely surprised at how much fun I had and how much I enjoyed it! He is such a brilliant performer and although it wasn't as colourful and as crazy as I thought it would be, it still blew my mind! He literally sat at his piano and played non stop for 2 hours! no breaks nothing. Song after song. Hit after hit.It was brilliant. Now THAT is a performer! No fancy costumes, no crazy stage show, just a man and his voice and his piano. I'm glad I got to experience it!
The next weekend was another performance but of a different kind! I went to the ballet! My mum, cousins and I went for a girls day out to see "Swan Lake" It was so gorgeous! Although I was a bit confused with the beginning and ending of the show the dancing was still amazing. It went for 3 hours, however, I lost myself in the beauty of the dancing and the music! It was so lovely to shut the outside world off and enjoy such a pretty show! Man the muscles on those men would put any footballer to shame!!!
The next step in my December ride was my BIRTHDAY!!! I had 3 celebrations for my birthday! I had a bbq by the pool with friends the weekend before December! I had such a wonderful day swimming in the pool with all of my favourite people! It was cruisey and relaxing and fun! Exactly what I ordered for my birthday :-) I also had a morning tea with my family the weekend after my birthday! This was so lovely! My side of the family and Robs side of the family came together to celebrate with me! I got some beautiful presents including the full set of Anne of Green Gables books and tickets to go see ANNIE the musical! I am so so so excited to see this! Its one of my best friends and my favourite musicals and I saw it when I was younger so I can not wait to see it again! the morning tea was short and sweet but I really enjoyed the company and playing with my nieces and nephews and cousins! On my actual birthday the children I nanny were staying at my house for the week. Boy did we make the most of it! I took them to swimming lessons in Brisbane in the morning and then we went on an adventure! We went to "EcoPark" which is a fantastic little fishing park at the base of Mount Tambourine! Our favourite pet store owner and his wife have just bought this place and have really made it come alive! You hire a rod and go for gold! You can fish all day, with guarantees of catching ;-) and they are not your little average size fish! It was so much fun! We only caught 8 fish but the boy across from us caught 22!!! How awesome for kids!!! and me :-) They are also adding animals to the park. When we went there were guinea pigs and goats and alpacas and a pony! So cute to cuddle and play with! That night when Rob got home from work the 5 of us went out to dinner to my favourite place "sushi train" Even though I had to work ALL day on my birthday it was still a lot of fun and it was an experience that I will remember! Here are a few snap shots from my birthday celebrations!
Sushi Train for dinner on my birthday with the kids!


(I'm sorry I cant load any more photos as they are all loading on sideways :( I hope I fix this soon)
December brought along school holidays and I had a lot of fun spending the days with all 3 kids. We went on many adventures together and they even had a week long stay at our house! This was fun...and a challenge. But I think I handled it pretty well! I am so ready to be a mum...of 3...or even 4 ;-) we loved having children in our home! We did a LOT of arts and crafts, we went swimming, we went to the drive in movies, we went to the fishing park, we went christmas light looking and we went the beach! A fun week was had by all :-)
Next on the December road trip we hit CHRITMAS!
This Year we decorated our house again with Christmas lights!
Photos DO NOT do it justice!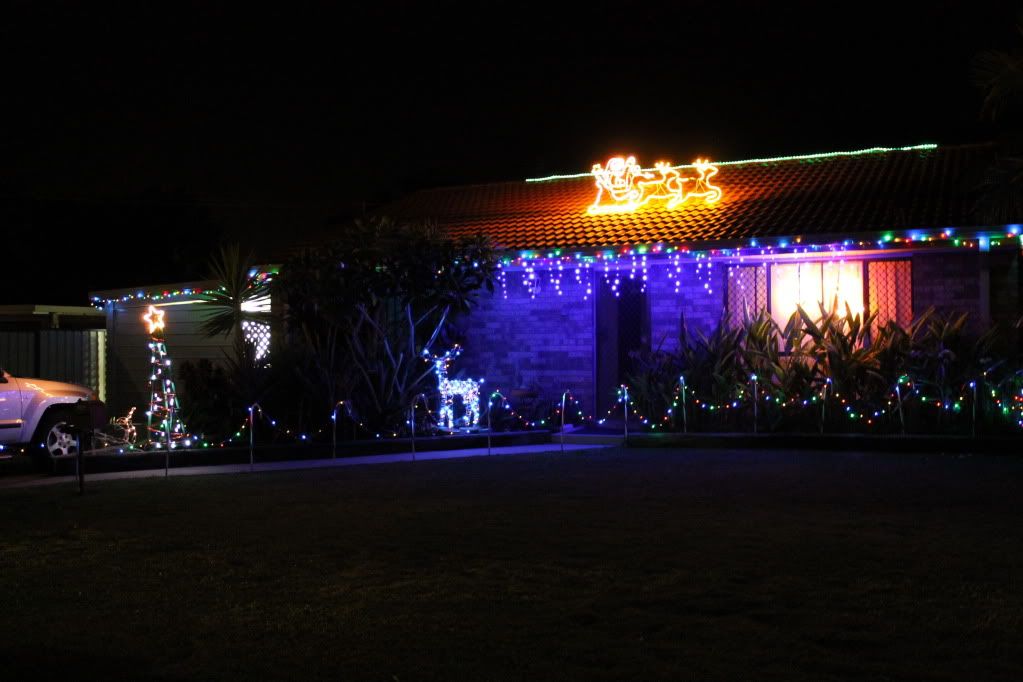 Each Year we add something new! This year was our colourful reindeer and put lights on the tree! Next year we are covering the roof! Exciting!!
Christmas day started off with our traditional breakfast at mums! Every year all of our family that live in Brisbane get together for a yummy cooked breakfast by my mum and dad! I love starting the day off with all my loved ones smiling, laughing and eating good food! Boy do we laugh! My family is hilarious! Just saying! Here in Brisbane we have my mum and her brother! My uncle has 2 daughters and mum has 2 daughters! So all of our partners have had to join a very tight family. But boy oh boy when we are all together it is one big laugh fest! The guys bring so much laughter to our family it's not even funny. (hrm??need a new analogy there) The kind of belly jiggling, cheeks hurting kind of laugh fest! I love it! We have fun and that's what its all about! Another thing I love about Christmas morning at my mums is SANTA STILL COMES! Yep 25 whoops sorry 26 and Santa still fills my stocking! I always believe!
After breakfast we headed home as we were hosting Christmas lunch for Robs family at our house this year! I love hosting! I love our home and I am very proud of it and I love having my family and friends over to celebrate with us! I don't go overboard. I keep it simple and it always looks and turns out perfectly! White table clothes with red runners. A Christmas tree in a pot with the words 'peace' on one table and 'hope' on the other! Simple, festive, perfect. This year we had our "real tree" in our backyard so we decided to have Christmas outside! Mother nature held off the rain but boy she replaced the heat with it! It was hot but we survived! We enjoyed a beautiful afternoon with rob parents, his brothers and wives and our gorgeous, gorgeous gorgeous nieces and nephews! I'm a little bit addicted to their gorgeous smiles and cheeky giggles and I'm telling you now my heart just melts and I fall into a thousand pieces every time I hear the words "Aunty Sarah"
Christmas night we slept! We were so tired from the huge festive day we just cuddled up on the couch together and slept! It was a perfect ending to a perfect Christmas. Our fifth Christmas together. Very Special!
The last week of December involved a lot fishing, prawn eating, visiting friends, spending time with Robs family for his mums birthday and packing for our trip away! It was jam packed and it flew by in a second. Ok maybe in 7 days but shhhhh What a year! What a December! 2011 you were amazing!
x S.K.K x